Today is the first day of school for me! This year, I am learning about the 20th Century, beginning of course, with the year 1900.
What would my family have looked like if it was currently the early 1900's???
Our Clothes-----------------------------------------
In the early 1900's, mass-produced clothing was first made available. At first, you could only purchase men's clothing, but soon the women's shirtwaist was made available. Perhaps my mother would have worn a factory-made shirtwaist with a home-made skirt.
Perhaps my father would wear clothes such as these:
The outfit on the left is a topcoat for morning wear, and the outfit on the right is an overcoat for business wear.
My little sisters would have worn knee-length dresses, and worn their hair down, perhaps with a ribbon tying it back.
And of course, my brother would have looked charming in his sailor suit:
Our Fun---------------------------------------------
Perhaps we would have enjoyed games such as cards, checkers, chess, monopoly (made in 1906), or charades. We might listen to books being read aloud such as "The Wizard of Oz" (published in 1901) or "The Call of the Wild" (published 1903).
* Just as a side note, I am currently reading "The Call of the Wild", and my mom is currently reading "The Wizard of Oz" aloud to my sisters for school.
Perhaps we would have sang around the piano, or listened to songs such as "Mr. Dooley" (1902).
Or "You're the Flower of My Heart : Sweet Adeline" (1903)
How about some croquet during a hot summer afternoon?
Tennis or bicycling, anyone?
Our Home----------------------------------------
In the city I live in, there is an area where there are hundreds of Queen Anne-style homes. In the Victorian era, this part of town was the rich area. Now it is a bit run down, and these old houses go for surprisingly cheap prices. No longer do the rich of the city live in this area. But if you drive through there, you will see what it would have been like to be rich in the early 1900's around here.
If I lived in the 1900's, I would love to live in a house like these...
(These are houses in the neighborhood I talked about. I did not take these pictures...)

Our Vehicle--------------------------------------------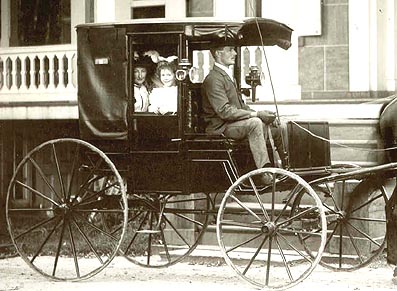 A Horse-drawn Carriage... The first mass-produced cars weren't really available until the 1910's.