esterday, I walked into the living-room, where my sisters and brother were watching a movie I'd never heard of called "The Secret of Moonacre". I was intrigued, and though the movie was halfway over, I sat down to watch anyway. I have no idea what the movie was about, as my sister said only "Some lady was going to marry some guy... or something.... and now this little girl lives with her uncle..." which explained in no way why on earth the girl hung out with a guy named Robin who had feathers sticking out of his collar or why she kept mentioning "Moon Pearls".
No idea.
But I
do
know one thing.
The Costumes... were s-t-u-n-n-i-n-g!!!
So, of course, I had to post pictures on my blog.
The main character is named Maria-- she's the little girl on the right.
I love this first blue dress. The detailing really draws me in. I am especially fond of the color, and the lovely pleats on the bottom. I really love clothes with character!
The embroidery on the bodice is really something... just so beautiful!
The back was really amazing as well!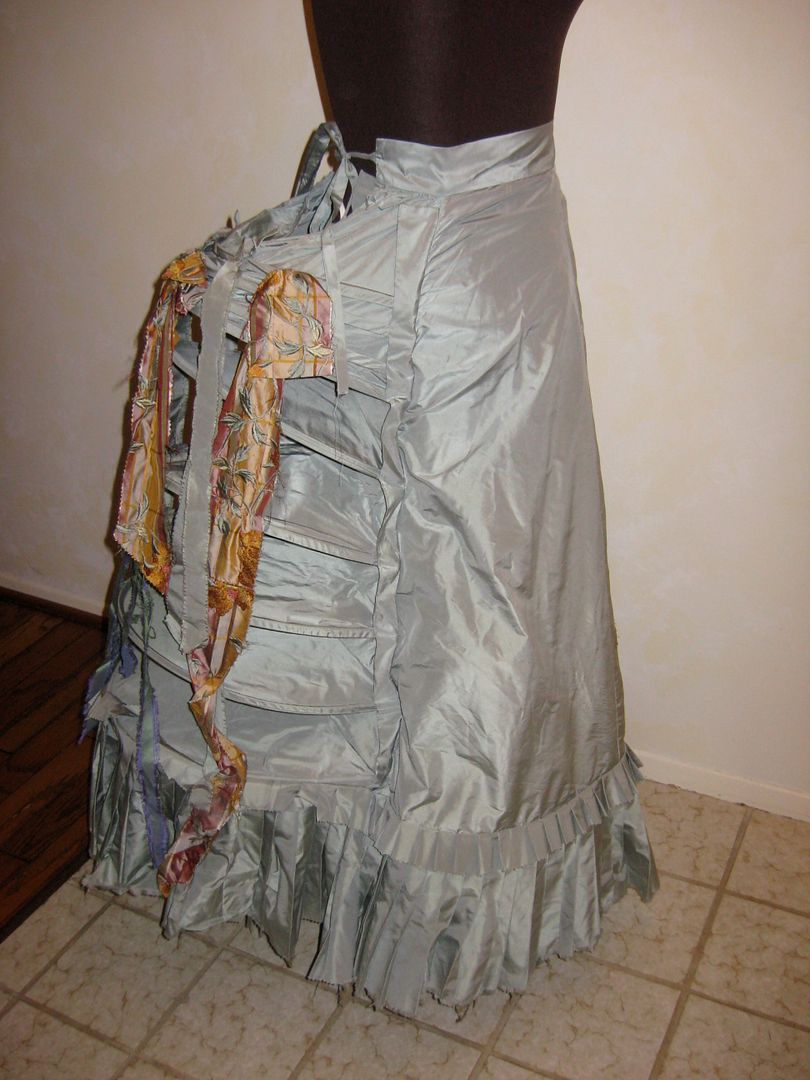 It had a sort of "exposed bustle" look. The bustle is covered in the same fabric as the dress, and it has ribbons coming down.
-=♥=-
The next costume is a beautiful rose-colored dress. In style, it is similar to the blue one.
Again, the loveliest fabrics, and the pleats at the bottom... *to die for!*
-=♥=-
The next dress has a bit of a medieval feeling about it. It is made out of a lovely and luscious red velvet. On the front (in the last picture) are "moonstones"... ya, I have no idea.
I just noticed those shoes... which are pretty awesome in and of themselves! You could probable make those with some black high-heels from the thrift store, some sturdy gray fabric, and a piece of black ribbon around the top.
I really loved her hair in this scene... just a fishtail braid with some ribbon in it! So whimsical, and really easy to do!
-=♥=-
Next up is this lovely green number. I just love how all of these dresses mix whimsical with historical... taking elements of both to create a very pleasing design!
Is this supposed to be her camouflage dress? I love the earthy colors!
It remids me of the forest during Autumn! I love the little polka dots on her yellow underskirt too (you can see them in the picture below). I really find the use of many patterns that are different, yet work together, to be really neat and beautiful! In the bottom picture of this dress, you can somewhat see the back of her dress, where there is a green-and-yellow striped bow! Although her top is already patterned, the two patterns work together to create a very interesting look!
-=♥=-
As a quick deviation away from our current costume study of Maria's wardrobe, I would like to add a picture of another lady character with a lovely gown. I am not sure who this character was, but I was able to deduct from the portions of the film that I watched that she was 1) a main character, 2) her name, I believe, was "Loveday", and 3) She has the loveliest clothing.
I was particularly fond of the the dress below--♥
-=♥=-
Our last object for study is Maria's nightgown. You would be sure to have sweet dreams in this frock!
This dress from the movie is currently for sale at propstore.com. This costume bears the *ahem* hefty price tag of $529.00. {
view listing here
}
-=♥=-